Three Warm-Up Chorales for Band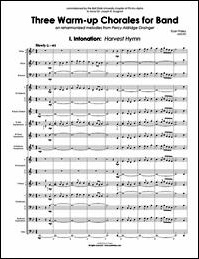 Free Download!
Three warm-up chorales designed to facilitate a quick but thorough ensemble warm-up. Each chorale is written to provide idiomatic opportunities to focus on intonation, balance, and expression, respectively. The source material comes from three popular melodies from Percy Grainger, reharmonized.
The chorales were commissioned by Phi Mu Alpha's Ball State University chapter to honor Dr. Joe Scagnoli's retirement in 2005. They are available to download and print for free courtesy of Phi Mu Alpha.
Download, Print, & Play

Three Chorales for Band